Physics Theme Semester: Fall 2005
100 Years Beyond Einstein
Sponsored by the Department of Physics and the Department of Chemistry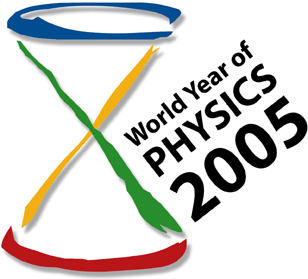 Theme Semester Website: http://www.lsa.umich.edu/lsatheme/einstein100/

Links:
Einstein Year 2005 | World Year of Physics 2005 | World Year of Physics 2005 | Center for the History of Physics (American Institute of Physics) | Society of Physics Students
Introduction and Motivation
During 1905, Albert Einstein published five remarkable papers on three subjects; the photoelectric effect, Brownian motion and the previously unknown sizes of molecules, and special relativity including the famous equation E = mc2. The first two papers opened the door to quantum mechanics and our eventual understanding of atoms. The third inextricably linked space and time into a richer space-time. This annus mirablis provides a convenient signpost, marking the transition between classical and modern physics, and between then 19th and 20th centuries. During the 100 years since, science has advanced at breakneck speed, so that the modern" world Einstein ushered in now seems quaint and remote.
To commemorate Einstein's great year, 2005 has been declared the World Year of Physics" by the American Institute of Physics and has been declared the International Year of Physics" by the United Nations Assembly. In the Fall 2005 semester we will celebrate this century of progress with a physics-oriented LS&A theme semester entitled One Hundred Years Beyond Einstein". The prime goal is to focus on progress since Einstein's time, right up to the fundamental research problems facing science today. It was a century in which physics challenged our conception of space and time, empowered mutual assured destruction, identified the origin of the universe, and enabled our current electronic society.
Three central themes
There will be three main emphases in our LSA Theme Semester.
The first will illuminate just what Quantum Mechanics and Relativity have become in the 100 years since Einstein. Although the mathematics required to make calculations in these areas can be demanding, the central ideas can be made accessible to a broad range of students. All things, matter and energy alike, are quantized; built up from countable numbers of discrete pieces. These quanta behave in surprising ways, sharing the traits of the particles we expect them to be and of extended waves. Relativity teaches us that space and time are intimately related, that when and where are coupled together in space-time events in an inextricable way. Relativity also reveals the universe. The farther out we look, the farther back in time we see. What we see when we look out (and back in time) is a universe with a history, a universe which has expanded and evolved over the 14 billion years since the big bang.
The second component of our theme semester will focus on the history and impact of the development of quantum mechanics and relativity. Quantum mechanics in physics and engineering brought us nuclear weapons and power, the electronic revolution, including computers, communication, and medical imaging. In chemistry quantum mechanics provided explanations for the periodic table and the properties of elements, explained the spectroscopy of atoms and molecules, and gave us the tools to probe the shapes of proteins. In biology quantum mechanics allows us to understand our genetic code, demonstrating the relatedness of all living things, allowing us to identify the guilty and exonerate the innocent, and uncovering the mechanisms of the cell.
The third emphasis of our theme semester will look beyond what Einstein glimpsed in 1905. During the 20th century remarkable surprises emerged. Particle physicists found that the fundamental constituents of matter come in three families, each a mysteriously heavier replica of the last. Astrophysicists found the origin of sunlight in a nuclear furnace. They identified and studied white dwarves and neutron stars, exotic stellar remnants supported by quantum pressure. Black holes have been found. In each, relativity is stretched to its limits, removing irretrievably a part of space from our future. Most recently relativity and quantum mechanics have come together in cosmology, allowing us to probe the origin of our universe. We now have robust evidence that quantum fluctuations in the early universe provided the structural seeds of the galaxies we see in the universe today.
These three themes will play out in a series of courses, public lectures, and cultural events. The events of the theme semester will be targeted to a variety of audiences, including LSA undergraduates, faculty and graduate students, and the general public.
Activities:
Courses

Saturday Morning Physics

Visitors and public lectures

An MCTP symposium may form a capstone for the semester
CRLT players production on dealing with conflicts between religion and science

Outreach to schools through preparation of 45 minute demo shows on several themes like
Saturday Morning Physics public lectures
Saturday Morning Physics (SMP) is a well established physics public lecture series regularly attended by more than 300 members of the Ann Arbor community on 18 Saturdays through the academic year. We will dedicate the Fall 2005 SMP lecture series to a series of lectures relating to the three themes outlined above. Lecturers for this series will be drawn from physics faculty, with the possible inclusion of several special guest lectures. This will form a significant aspect of our community outreach for this theme semester.
For several years, SMP lectures were videotaped for broadcast on UMTV and seen throughout the Ann Arbor area on Comcast Channel 22. They have proven remarkably popular, with each lecture broadcast literally dozens of times. We will use theme semester funding to again record these 100 Years Beyond Einstein" lectures for broadcast. We will also make DVD copies of the broadcast tapes available to local public libraries.
Visitors and Public Lectures
In addition to the regular SMP lectures, we will recruit several outside speakers. Several will be targeted at a broad audience. Possible invitees include authors of successful popular books on modern physics, including Brian Greene on string theory, K.C. Cole on cosmology, Janna Levin on general relativity, Kip Thorne on black holes, J. Richard Gott on time travel.
A more technical series of lectures, targeted at graduate students and faculty from across the University, will be developed in coordination with the Michigan Center for Theoretical Physics. It is possible that a several day symposium on the most important problems in physics today, organized by MCTP, will form a capstone for the technical aspects of the theme semester.
Demonstration shows for outreach
We are considering the development of a set of several physics demonstration shows designed around topics related to the theme semester. Each of these shows would unite a carefully prepared lecture presentation with a series of audience participation tools. These would include Peer Instruction questioning of the students and an extensive series of physical demonstrations. These demonstration shows would be developed in conjunction with our Student Physics Society, and used both by them for their well established middle school inreach activities, and by physics graduate students and faculty who already take such shows to state and local schools.
Some obvious topics would be:
Quantum mechanics, light, and spectroscopy

Relativity

Lasers and light

Gravitation, General Relativity, and Black Holes

The tiniest particles and how they form all we see

Life on other planets is inevitable
Science and religion
One substantial achievement of physics in the 100 years since Einstein is the development of a concordance cosmology. We now have a well established, observationally tested, theory of the origin of the universe. This theory conflicts with many of the origin myths which have developed in the context of religion throughout history. Many of us have encountered this conflict between science and faith in our classrooms, and struggled with how best to handle it. This kind of conflict also emerges in discussions of evolution.
Working in conjunction with the organizers of the Evolution theme semester, we plan to team with the CRLT players to develop a presentation directed at this topic of handling the conflict between religion and science in the classroom. This presentation would be used to train faculty, graduate students, and undergraduates (in venues like the Women in Science and Engineering program or the Student Physics Society).
Fall 2005 Theme Semester Courses
Title
Section
Instructor

Term
Credits
Requirements

ASTRO 101 — Introductory Astronomy: The Solar System and the Search for Life Beyond Earth
Section 001, LEC

Instructor: Bergin,Edwin Anthony; homepage
Instructor: Putman,Mary E; homepage



FA 2005
Credits: 4
Reqs: BS, NS, QR/2
Other: Theme

ASTRO 101 — Introductory Astronomy: The Solar System and the Search for Life Beyond Earth
Section 006, LEC

Instructor: Bergin,Edwin Anthony; homepage
Instructor: Putman,Mary E; homepage



FA 2005
Credits: 4
Reqs: BS, NS, QR/2
Other: Theme

ASTRO 102 — Introductory Astronomy: Stars, Galaxies, and the Universe
Section 001, LEC

Instructor: Mateo,Mario L; homepage
Instructor: Eckstein,Barbara L



FA 2005
Credits: 4
Reqs: BS, NS, QR/2
Other: Theme

ASTRO 102 — Introductory Astronomy: Stars, Galaxies, and the Universe
Section 006, LEC

Instructor: Mateo,Mario L; homepage
Instructor: Eckstein,Barbara L



FA 2005
Credits: 4
Reqs: BS, NS, QR/2
Other: Theme

ASTRO 111 — Introductory Astronomy: The Solar System and the Search for Life Beyond Earth
Section 001, LEC

Instructor: Bergin,Edwin Anthony; homepage
Instructor: Putman,Mary E; homepage



FA 2005
Credits: 4
Reqs: BS, NS, QR/2
Other: Theme

ASTRO 111 — Introductory Astronomy: The Solar System and the Search for Life Beyond Earth
Section 004, LEC

Instructor: Bergin,Edwin Anthony; homepage
Instructor: Putman,Mary E; homepage



FA 2005
Credits: 4
Reqs: BS, NS, QR/2
Other: Theme

ASTRO 112 — Introductory Astronomy: Stars, Galaxies, and the Universe
Section 001, LEC

Instructor: Mateo,Mario L; homepage
Instructor: Eckstein,Barbara L



FA 2005
Credits: 4
Reqs: BS, NS, QR/2
Other: Theme

ASTRO 112 — Introductory Astronomy: Stars, Galaxies, and the Universe
Section 006, LEC

Instructor: Mateo,Mario L; homepage
Instructor: Eckstein,Barbara L



FA 2005
Credits: 4
Reqs: BS, NS, QR/2
Other: Theme

ASTRO 160 — Introduction to Astrophysics
Section 001, LEC

Instructor: Oey,Marion S; homepage



FA 2005
Credits: 4
Reqs: BS, NS, QR/2
Other: Theme

ASTRO 402 — Stellar Astrophysics
Section 001, LEC

Instructor: Cowley,Charles R



FA 2005
Credits: 3
Reqs: BS
Other: Theme

CHEM 261 — Introduction to Quantum Chemistry
Section 100, LEC

Instructor: Geva,Eitan; homepage



FA 2005
Credits: 1
Reqs: BS
Other: Theme

CHEM 261 — Introduction to Quantum Chemistry
Section 200, LEC

Instructor: Geva,Eitan; homepage



FA 2005
Credits: 1
Reqs: BS
Other: Theme

CHEM 461 — Physical Chemistry I
Section 200, LEC

Instructor: Goodson III,Theodore G; homepage



FA 2005
Credits: 3
Reqs: BS
Other: Honors, Theme

HISTORY 285 — Science, Technology, and Society: 1940 to the Present
Section 001, LEC

Instructor: Steneck,Nicholas H



FA 2005
Credits: 4
Reqs: HU
Other: Theme

PHIL 320 — The World-View of Modern Science
Section 001, LEC

Instructor: Sklar,Lawrence



FA 2005
Credits: 3
Reqs: HU
Other: Theme

PHIL 423 — Problems of Space and Time
Section 001, LEC

Instructor: Sklar,Lawrence



FA 2005
Credits: 3
Reqs: BS
Other: Theme

PHYSICS 107 — 20th-Century Concepts of Space, Time, and Matter
Section 001, LEC

Instructor: Becchetti Jr,Frederick D; homepage



FA 2005
Credits: 3
Reqs: BS, NS, QR/1
Other: Theme

PHYSICS 111 — The Evolution of Scientific Thought
Section 001, SEM

Instructor: Berman,Paul R; homepage



FA 2005
Credits: 3
Reqs: BS, NS, QR/2
Other: Theme, FYSem

PHYSICS 112 — Cosmology: The Science of the Universe
Section 001, SEM

Instructor: Tarle,Gregory; homepage



FA 2005
Credits: 3
Reqs: BS, NS
Other: Theme, FYSem

PHYSICS 160 — Honors Physics I
Section 001, LEC

Instructor: Uher,Ctirad; homepage



FA 2005
Credits: 4
Reqs: BS, NS, QR/1
Other: Honors, Theme

PHYSICS 340 — Waves, Heat, and Light
Section 001, LEC

Instructor: Clarke,Roy; homepage



FA 2005
Credits: 3
Reqs: BS
Other: Theme

PHYSICS 341 — Waves, Heat, and Light Lab
Section 001, LAB

Instructor: Longo,Michael J; homepage



FA 2005
Credits: 2
Reqs: BS
Other: Theme

PHYSICS 341 — Waves, Heat, and Light Lab
Section 002, LAB

Instructor: Torres-Isea,Ramon



FA 2005
Credits: 2
Reqs: BS
Other: Theme

PHYSICS 341 — Waves, Heat, and Light Lab
Section 003, LAB

Instructor: Torres-Isea,Ramon



FA 2005
Credits: 2
Reqs: BS
Other: Theme

PHYSICS 341 — Waves, Heat, and Light Lab
Section 004, LAB

Instructor: Longo,Michael J; homepage



FA 2005
Credits: 2
Reqs: BS
Other: Theme

PHYSICS 390 — Introduction to Modern Physics
Section 001, LEC

Instructor: Zorn,Jens C; homepage



FA 2005
Credits: 3
Reqs: BS
Other: Theme

PHYSICS 435 — Gravitational Physics
Section 001, LEC

Instructor: Krisch,Jean P



FA 2005
Credits: 3
Reqs: BS
Other: Theme

PHYSICS 441 — Advanced Laboratory I
Section 001, LAB

Instructor: Chupp,Timothy E; homepage



FA 2005
Credits: 3
Reqs: ULWR, BS
Other: Theme

PHYSICS 441 — Advanced Laboratory I
Section 002, LAB

Instructor: Chupp,Timothy E; homepage



FA 2005
Credits: 3
Reqs: BS
Other: Theme

PHYSICS 453 — Quantum Mechanics
Section 001, LEC

Instructor: Thun,Rudolf P; homepage



FA 2005
Credits: 3
Reqs: BS
Other: Theme

RCHUMS 275 — The Western Mind in Revolution: Six Interpretations of the Human Condition
Section 001, LEC

Instructor: Peters,Frederick G



FA 2005
Credits: 4
Other: Theme

Courses in Other Units (non-LSA)

College of Engineering

EECS 320. Introduction to Semiconductor Devices
ENSCEN 211 / NERS 211. Introduction to Nuclear Engineering and Radiological Sciences.
NERS 211 / ENSCEN 211. Introduction to Nuclear Engineering and Radiological Sciences.
NERS 311. Elements of Nuclear Engineering and Radiological Sciences